Posts found in the ' Creativity for Little Kids ' Category
October 24th, 2011
Posted by:
Tonya
Hello Creativity for Kids readers, I'm Tonya from Create-Celebrate-Explore. I'm here to show you some of the wonderful things your child can do with the
No Comments
Posted in:
Creativity for Little Kids
March 7th, 2011
Posted by:
Niri
The one annoying thing about doing crafts is getting all the supplies. If you are a crafting person you probably have cupboards stocked with them. I am not. I like my crafts in kits. I like them simple and easy to do. I don't want to have to do… Read more
1 Comment
Posted in:
Creativity for Little Kids
,
Fashion
,
Product Tutorials
February 6th, 2011
Posted by:
Khali
Finding craft activities for preschoolers can sometimes be a challenge. It's often hard to find a craft that is entertaining, easy to clean up and manageable for young fingers. The My First Scissors Kit is all these things and more.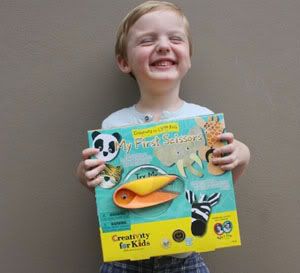 My son, Hunter, recently received this kit… Read more
No Comments
Posted in:
Animals
,
Creativity for Little Kids
,
Product Tutorials