Posts found in the ' Craft Tutorial ' Category
May 17th, 2011
Posted by:
Amy
For us, warmer weather means spending as much time as possible outdoors. There is honestly nothing simpler that yields as many afternoons of sheer delight as blowing bubbles. My kiddos – ranging in age from 5 down through 18 months – all can't get enough!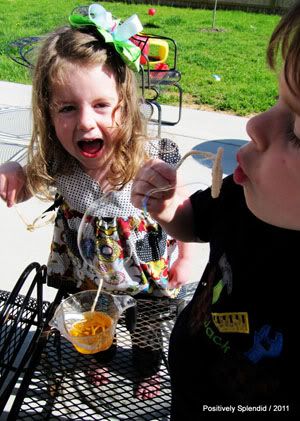 Did you know you can easily make your own bubble solution and wands with items you are very likely to have on hand? Let us show you how!
For the bubble wands, you will need…
Pipe cleaners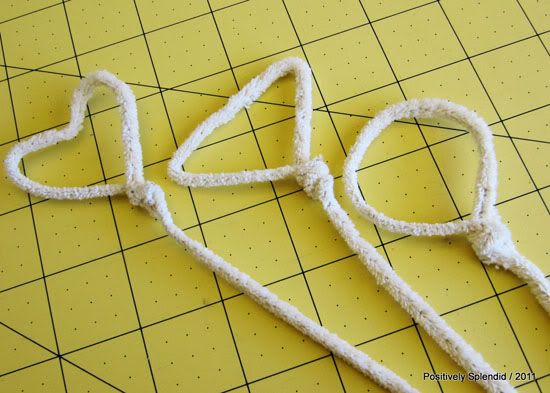 Shape your pipe cleaners into any shapes you desire: circles, triangles, hearts, and the like. This is a terrific activity for little hands! Once you have formed your shapes, twist on an additional pipe cleaner to serve as your handle. Your wands are ready to go! The fuzziness of the pipe cleaners will help these make outstanding bubbles, since they will soak up so much of the solution.
For the bubble solution, you will need…
1/4 cup liquid dish soap
3/4 cup water
1 teaspoon liquid glycerin (if you can't find glycerin – found in many drugstores – Karo syrup will work)
Combine all ingredients and mix carefully. That's it!
Now head out to soak up some rays and blow lots and lots of bubbles! Conduct a little science experiment: Will the differently shaped wands yield different shapes of bubbles?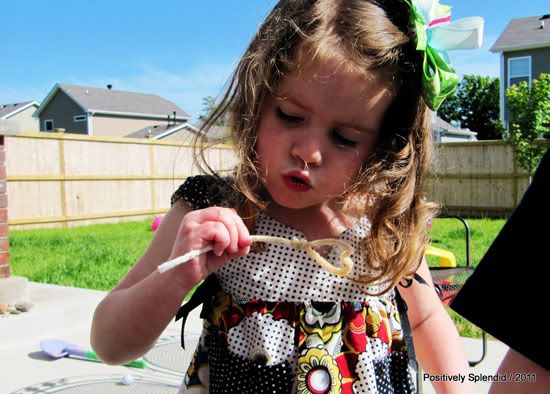 Hint: No matter the shape of the wand, your bubbles will always be round!
No Comments
Posted in:
Craft Tutorial
,
Do-It-Yourself
,
Summer Activities
May 1st, 2011
Posted by:
Summer
Spring is here, and these fun butterflies will fly right into your house to bring a little springtime cheer. These are easy for kids of all ages to make, and add a whimsical, colorful decoration to your home.

What you need:
- coffee filters
- clothespins
- pipe cleaners
- markers
- spray bottle filled with water
- paper plates
Start off by coloring designs on your coffee filters. My two year old really enjoyed doing this, and I even got to flex my creative muscles and make a few, too! The markers bleed through the coffee filters fairly easily, so you may want to put a place mat down.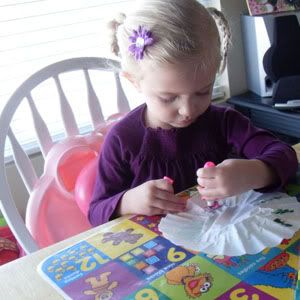 Put your designed coffee filters on paper plates.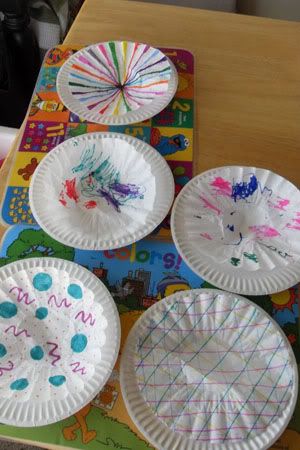 Spray the filters generously with the water bottle. Little hands will be eager to help with this part!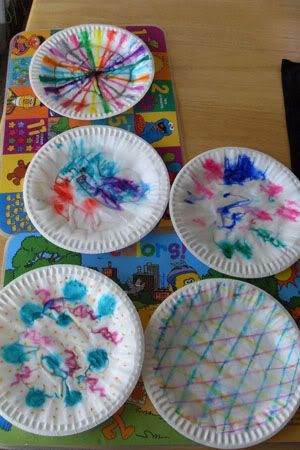 Enjoy watching the colors bleed and swirl!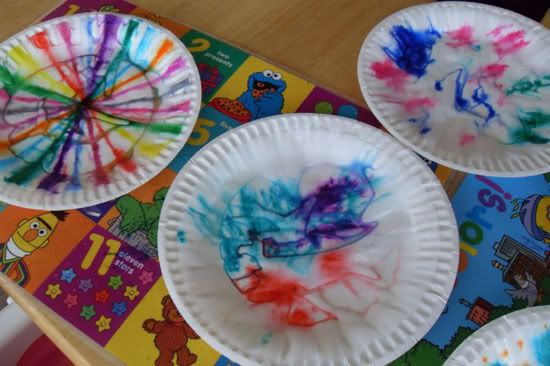 Allow the filters to dry completely before moving on to the next step.
Take your dried filters and pinch them together in the middle, securing them with a clothespin. You will see a butterfly start to take shape!
Cut small pieces of pipe cleaners, and use them to form antennas. Secure them in a v shape with the clothespin. If you like, draw a happy little face on your butterflies.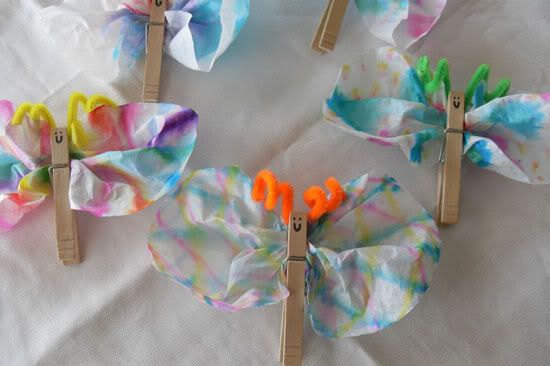 Hang them wherever you fancy and enjoy your happy butterflies!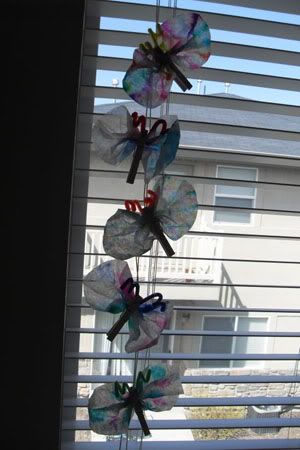 1 Comment
Posted in:
Animals
,
Coloring
,
Craft Tutorial
,
Home Decor
,
Spring Activities
April 23rd, 2011
Posted by:
Linda
Supplies needed:
Empty and CLEAN can (canned beans/veggies can will do just fine)
Decorative scrapbooking paper or construction paper
Mod Podge + brush for application
Scrap ribbons
Extras: suckers/candy/flowers
Step One: Empty your can of it's contents (Go ahead and eat your beans, we will wait!) Remove the label and clean the can.
Step Two: Decide on which paper you would like to use on your can. Apply the paper to your can with Mod Podge. (You will need to determine how much paper you need by wrapping it around the can and snipping off the excess.) *This will need time to dry, I always allow a few hours.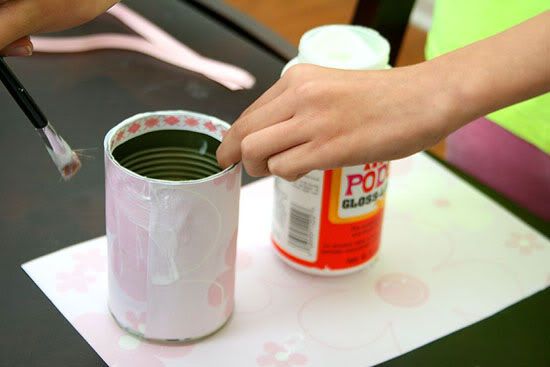 I also added a decorative ribbon on the inside of my can (to prevent anyone from cutting themselves).
Step Three: While your can is drying you can go ahead and start on the flowers. There are so many different ways you can do this. I will share my favorite paper flowers with you below.
Decide on a flower pattern and cut each one out. There are several templates available online.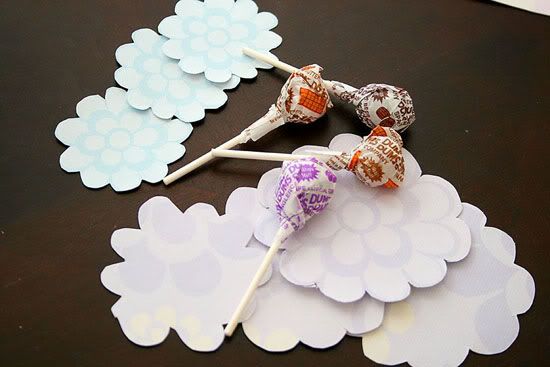 Take a sucker and stick it right in the middle of both flowers.
Ta Da! A sucker flower : )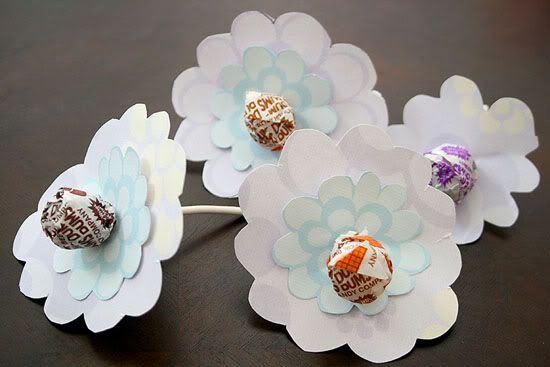 Of course, you can also use fresh REAL flowers (like annuals). Just be sure to place soil in the bottom of your can and add a little water.
Step Four: Once your can (basket) has dried, take a drill and drill one small hole in each side at the top. If you do not have a drill just take a hammer and nail and make your own hole by hitting the hammer against the nail a couple of times.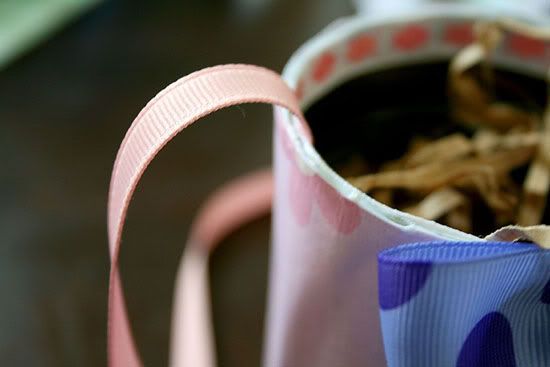 Step Five: Take your decorative ribbon and insert it into both of the holes, tie a knot at each end on the inside.
Now you are ready to fill it!
For this one I am going to fill it with paper sucker flowers since my kids will be giving them to their friends.
I placed shredded paper in the bottom and just inserted a bunch of pretty sucker flowers.
I also added a cute decorative bow. You can add any embellishments that you like!

Cute, huh?
Last, you will need to add a HAPPY MAY DAY note to the side.
Run over to their house, hang the basket on the door, ring the bell and RUN!!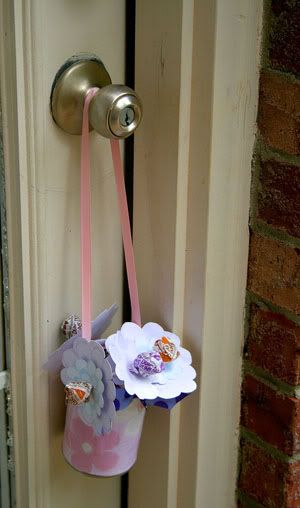 Celebrate Spring!
No Comments
Posted in:
Craft Tutorial
,
Gift Ideas
,
Holidays
,
Spring Activities