April 4th, 2011
Posted by:
Jen
When a girl has been on her toes all day dancing, ending the day with a foot bath and pedicure is just what the mom ordered!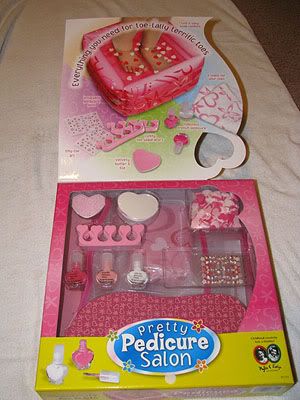 My daughters are 12 and 5 and paying top dollar at the salon isn't in the budget, but the Pretty Pedicure Salon by Creativity for Kids is right up our alley.
Any girl will love the heart-themed kit that is bound to pep up tired feet and doll up those toenails with this great set, just add towels, water, polish remover, and toenail clippers and you're ready to go.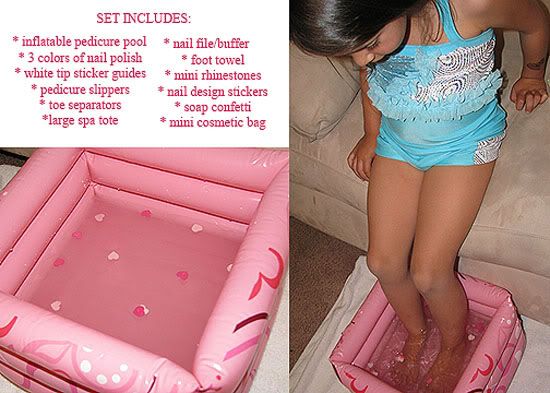 The smile on my youngest's face when I told her it was time to 'pamper her tootsies' was priceless since she replied, "diaper my feet?!" We took turns blowing up the foot tub which was the perfect size for moms and daughters alike. We got started in the bedroom, make sure a towel is down on the floor. The other option is to sit on the edge of your bathtub and have a tub within a tub for easy clean up. After filling the inflatable tub half full with warm water we sprinkled the heart shaped soap confetti and watch it dissolve, the scent was soft and floral. Once your feet are in, grab the heart shaped cloth and drop it into the tub and see what happens!
Ta-dah! A washcloth to massage your feet evolves. Once you are done with the bath and massage, drain the tub and dry those feet off. Now you're ready to get to the toes. If you have nail polish on, with help from mom or big sister, dampen a cotton ball (toilet paper works too) with nail polish remover and wipe clean. Polish-less toenails can get buffed and filed with the included heart shape 2-sided file/buffer. Finish off with a toenail clipping and you're ready to polish!
Place the toe-separators on each foot so you have adequate space to work and keep the toes from touching and smudging the polish. Choose your polish (white is for french manicure looks) and apply a nice first coat, use a second if you choose, allow a few minutes to dry. I was surprised how fast they did dry. Blowing on it helps when the girls are eager to get to the special effects!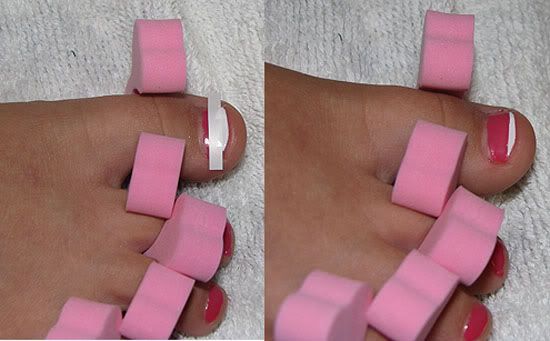 If you like the french manicured look, take a white sticker guide and lay it over each dry nail leaving a little space at the top. Take the white polish (you can use any color really, but white is traditional) and polish white from the white strip to the top of the nail, let dry. Pull off the white sticker off and you have a clean straight tip. When you're all done, embellish with the added mini gems and stickers, a set of tweezers is very helpful here, those stickers are tiny! The pedicure slippers are quick and easy to assemble and can be worn for a good 30 minutes after your pampering to avoid any smudges or wrinkles.
For $25.99, this kit reaps rewards over and over and is essential for every girl's beauty regimen. Welcome Spring and flip-flop weather with a treat for your feet! Just wait, when the girls head off to school tomorrow, it's mommy's turn!
Products

featured in this post:


Pretty Pedicure Salon
Price: $25.99
Age Group: 9 – 99
1 Comment
Posted in:
Spring Activities