April 23rd, 2011
Posted by:
Linda
Supplies needed:
Empty and CLEAN can (canned beans/veggies can will do just fine)
Decorative scrapbooking paper or construction paper
Mod Podge + brush for application
Scrap ribbons
Extras: suckers/candy/flowers
Step One: Empty your can of it's contents (Go ahead and eat your beans, we will wait!) Remove the label and clean the can.
Step Two: Decide on which paper you would like to use on your can. Apply the paper to your can with Mod Podge. (You will need to determine how much paper you need by wrapping it around the can and snipping off the excess.) *This will need time to dry, I always allow a few hours.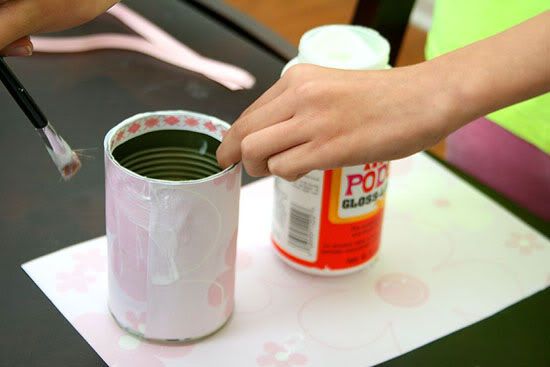 I also added a decorative ribbon on the inside of my can (to prevent anyone from cutting themselves).
Step Three: While your can is drying you can go ahead and start on the flowers. There are so many different ways you can do this. I will share my favorite paper flowers with you below.
Decide on a flower pattern and cut each one out. There are several templates available online.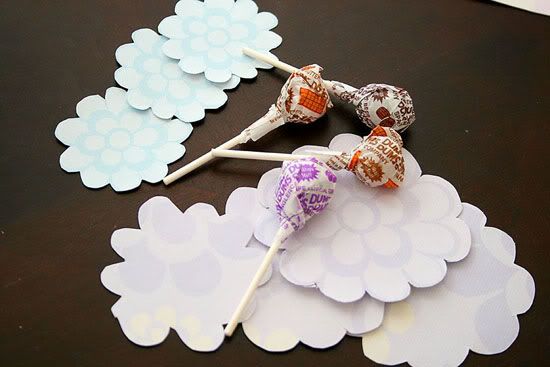 Take a sucker and stick it right in the middle of both flowers.
Ta Da! A sucker flower : )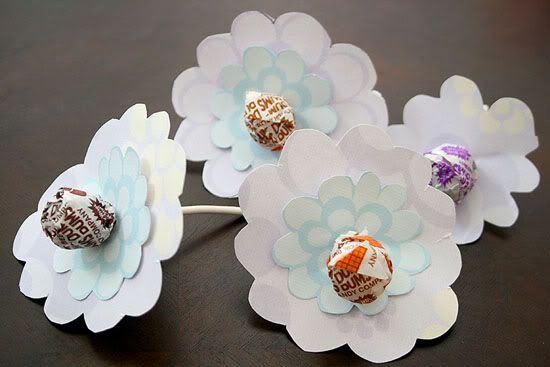 Of course, you can also use fresh REAL flowers (like annuals). Just be sure to place soil in the bottom of your can and add a little water.
Step Four: Once your can (basket) has dried, take a drill and drill one small hole in each side at the top. If you do not have a drill just take a hammer and nail and make your own hole by hitting the hammer against the nail a couple of times.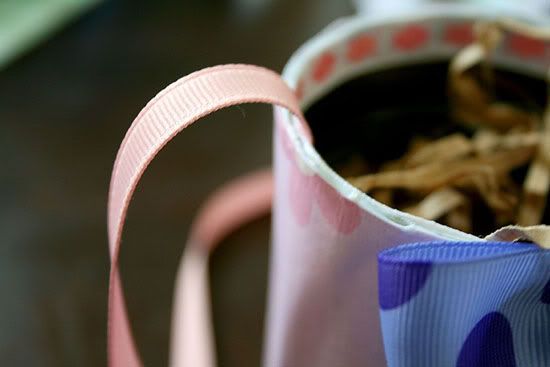 Step Five: Take your decorative ribbon and insert it into both of the holes, tie a knot at each end on the inside.
Now you are ready to fill it!
For this one I am going to fill it with paper sucker flowers since my kids will be giving them to their friends.
I placed shredded paper in the bottom and just inserted a bunch of pretty sucker flowers.
I also added a cute decorative bow. You can add any embellishments that you like!

Cute, huh?
Last, you will need to add a HAPPY MAY DAY note to the side.
Run over to their house, hang the basket on the door, ring the bell and RUN!!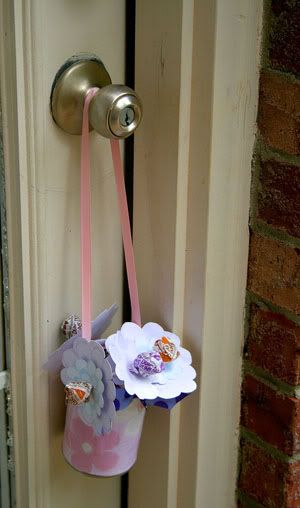 Celebrate Spring!
No Comments
Posted in:
Craft Tutorial
,
Gift Ideas
,
Holidays
,
Spring Activities