March 14th, 2011
Posted by:
Holly
I don't think I've ever met a little boy who isn't into trains. I know plenty of little girls who love trains as well so the Make Your Own Train Kit from Creativity for Kids is sure to be a hit with the preschool (and up) crowd. My almost four year old son thoroughly enjoyed making his own wooden train with this handy little kit which comes with everything you need (well, almost).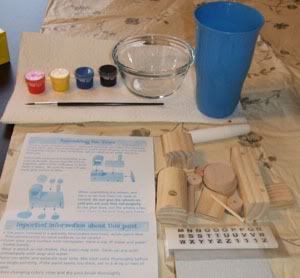 Kit includes:
Wood pieces to build train
Glue
Sandpaper
Paint
Paintbrush
Letter stickers
Directions

Not included, but handy:
Newspaper or old vinyl picnic tablecloth to protect your table
Small dish to mix colors
Cup of water to rinse paint brush
Paper towel to blot brush after rinsing brush when switching colors
First, sand any rough edges on the wooden pieces. Older kids might feel like a real wood worker with this step but our pieces were in pretty good shape so we actually skipped this step. Before gluing the train together, I had Jackson assemble it like building blocks according to the picture to make sure we had everything where we wanted it.
Once we knew where the pieces belonged, we took it apart and reassembled it, gluing along the way. Take special care with the wheels if you want them to function!
Let the glue dry, then paint.
Jackson's favorite color is green so I had anticipated having to mix some up for him since the kit only includes red, black, blue and yellow. My boy is by the book though and wanted to paint it just like the picture on the box.
Once the paint is dry you can apply the letter stickers. Your child might choose to give his or her train a name or pick their own name so everyone knows who created this masterpiece. The great thing about this project is that you end up with a functioning toy. The wheels roll as long as you make sure to twist them during the glue drying process. My children enjoy playing with this new toy on their train table.
Products featured in this post:
Make Your Own Train
Price: $4.99
Age Group: 5 – 95
No Comments
Posted in:
Boy-Friendly
,
Painting
,
Product Tutorials