January 23rd, 2011
Posted by:
Ana
During the cold, gloomy winter months, we take advantage of every bit of sunshine that we can.  When the sun bursts through the rainclouds we throw on our coats and go for a walk.  At the start of every day we throw our shutters and our curtains wide open so that sunlight can flood every nook and cranny.  Privacy can take a hike for now; I love how the sunlight brings warmth, cheer and beauty to our home.
Yes, beauty: over the years we've discovered that light and shadow can decorate a house just as much as a vase or a rug.  Some of the window's in our 1920′s Craftsman bungalow still have the old-fashioned glass that throws lovely rippled patterns on the wall when the sun shines through them.  I set colored glass bottles on some of our windowsills so they shine blue or green in the light.  And the kids have made their very own versions of stained glass windows with the help of Creativity for Kids.  Their Paint & Peel Window Art set has everything kids need to create beautiful window art designs that stick on and peel off!
As Creativity for Kids Creativity Club members, we were given our own Paint & Peel Window Art Set to try, and we discovered that creating window art couldn't be easier.  Here's how it works:
To start with, choose your design and slide the sheet into the plastic pattern cover.  The set has eight design papers, with over thirty designs in total, so your kids are sure to find a design they like.  If they can't, no worries; they can draw their own design on a blank piece of paper or photocopy a design from a book or magazine.

Tip: The set only comes with one plastic sleeve, but you can buy more at your local office supply store, or you can use a plastic ziploc bag.
Next, use the black outline paint to trace out your designs.  The set comes with two bottles of black outline paint, which I really appreciated since I've got three kids who all love making window art.  The black line needs to be continuous and unbroken, which sounds easier to do than it actually is.  The outline paint is rather thick and difficult to squeeze out in a nice, even line, so you may want to practice squeezing out a few lines before starting on your design.  When you're done, wait about 30 minutes for the black paint to dry.  This will probably the toughest part for your kids because all they'll want to do is get on with the decorating!
Tip: The paint bottle caps are attached to the bottle, but we actually snipped the paint caps off because they were dragging on the plastic surface and messing up our neat black outlines.
After the black outline paint has dried, the *really* fun part begins: you get to color in your work.  The set comes with eight bottles of Window Paint, in all the primary colors as well as some of my kids' favorite non-primaries like neon orange, neon pink and lavender.  You can use the paints to mix up a new color, or you can create a tie-dye/swirl effect by squirting two colors side by side and using a toothpick to blur the edges together.  The set even comes with googly eyes and rhinestones so you can really make your window art dazzle.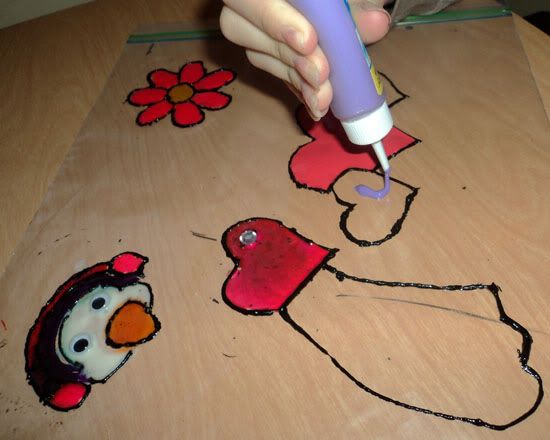 Tip: the window paint is much runnier than the outline paint, so don't squeeze too hard!
Let your work dry overnight, then gently peel the design away from the plastic sheet.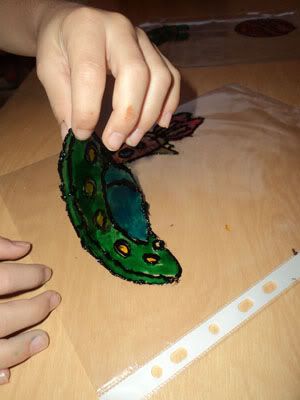 Tip:  If your design sticks or tears, it probably needs a bit more drying time.
You can stick your design onto plastic binders, cardboard boxes, bathroom windows, bathroom tiles, frames or other non-porous surfaces.  Needless to say, our favorite surfaces are the glass windows that face east.  My boys have created a whole galactic battle scene, complete with spaceships and planets; nearby, my daughter welcomes visitors with signs of peace and love.  When the sun hits the window art, they sparkle and shine with dazzling color.  They're like stained glass windows that we can remove and change whenever the mood strikes us.  They're a fun way to brighten up our home and put some color into our day!
Read more of Ana's posts on her personal blog, Finding Bonggamom, her review blog, Bonggamom Finds, and on Silicon Valley Mamas.
Products featured in this post:
Paint & Peel Window Art
Price: $13.99
Age Group: 6 – 96
1 Comment
Posted in:
Boy-Friendly
,
Home Decor
,
Product Tutorials
,
Tips and Tricks