January 25th, 2011
Posted by:
Ana
Heads up, parents! January isn't over yet, but summer camp brochures are arriving in the mail and early registration deadlines are looming. It's time to plan your child's summer schedule. With all the summer camps available these days, you're sure to find dozens that your child will love. The only difficult thing will be choosing from all the cool camps — and paying for them. With twelve weeks of summer to get through, camp fees can quickly add up, especially when you have 3 kids I like do. That's why every summer I team up with my sister and her sister-in-law to organize our own camp. We plan activities and get all our kids together for a week of fun, learning and togetherness: Cousin Camp.
Just like at regular summer day camp, we spend each day at Cousin Camp doing activities, crafts and games. Each day, a different mom hosts the Camp, so our houses don't get totally trashed. Each day, two moms act as Camp Counselors and the third mom gets the day off. The kids get to play together, we moms enjoy each other's company (and get some much-needed time off), and the whole thing costs less than the weekly camp fee for a single child. What could be better?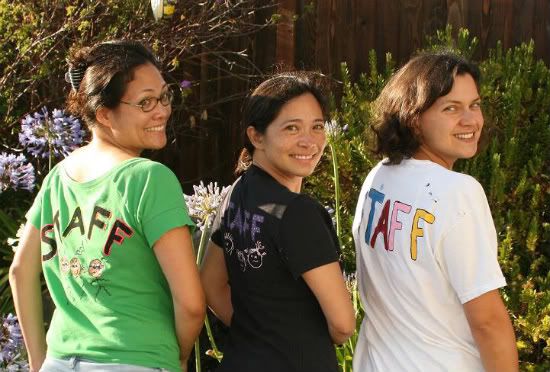 Organizing your own week of summer camp couldn't be easier. Gather together a group of your mom friends with kids roughly the same age as yours. Figure out a house rotation schedule and divide up the Camp Counselor duties amongst yourselves. Decide on a main activity for each day of the week, purchase any activity kids and/or supplies you'll need, and you're good to go! Need ideas? Here's a week's worth of themed camp days to get you started on your own version of Cousin Camp:

Monday: T-shirt painting
We like to start every Cousin Camp with a shirt painting activity so that our kids can design and create their very own Cousin Camp shirts! Having a camp shirt makes it feel that much more like an actual camp (and makes it easier for us to keep track of the kids when we go out on our field trips). You could also make camp bracelets or buttons instead of shirts.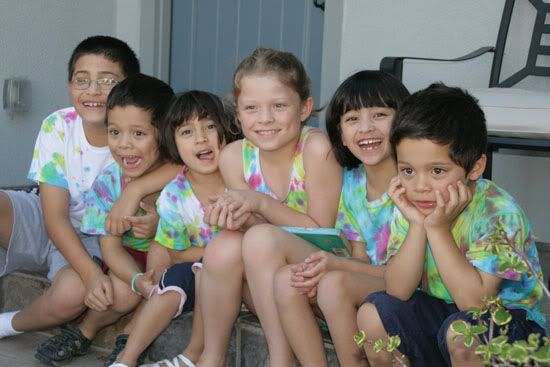 Tuesday: Water play
It wouldn't be summer without some wet, splashy fun! There's always at least one day when the kids are in their bathing suits the whole day, playing with water balloons, water guns, water buckets, the works. You can play in the back yard or head to the local pool — just remember to slather on the sunscreen and keep them hydrated with water and juice.
Wednesday: The great outdoors
Neither my sister, her sister-in-law nor I have big houses, so at Cousin Camp we like to expand the borders of our camp by heading to the local park. Armed with some sand toys, a soccer ball and a stomp rocket, we like to spend at least one of our days running races, playing tag and getting active in the great outdoors.

Thursday: Mad science
We spend the day in the kitchen cooking up some amazing experiments. Whether it's concocting slime from glue and borax or baking up some red velvet cupcakes for a snack, the process is always just as fun as the results!
Friday: Field trip
Group outings are always fun! One year we met up at the Oakland Zoo; another year we spent the day at Coyote Point Museum. Getting out and exploring a local kid-friendly museum or attraction is a fun way to end the week.
Here are a few more tips for a successful Do-It-Yourself Summer Camp:
* Feel free to tailor Cousin Camp to match your children's ages and interests. Since you already know each other's kids, you'll know what will work, and what won't.
* You can purchase craft kits by Creativity For Kids to save you the trouble of gathering supplies piece by piece. Creativity For Kids has all kinds of fun craft kits, and each kit comes with instructions and ideas so you don't need to be an expert to lead the activities. You'll get just the right amount of materials, which means less mess and less waste at the end.
* Don't forget to supply each child with his or her own activity book so they have something to do if they finish an activity early or just don't feel like participating. We like to provide a couple of activity books for each child, from workbooks that keep the Summer Brain Drain to a minimum, as well as fun Creativity for Kids' ARTivity books.

* Designate a couple of afternoons as Movie Afternoons so you can chill out on the couch over popcorn and cartoons.
Finally, leave plenty of time for free play. I'm sure you have lots of toys to entertain the whole gang, and I'm sure your kids will be raring to spend time with their cousins, playmates or friends. We kept everything loose and informal, and tried to make the whole Cousin Camp Week just like one gigantic, week-long playdate. Whether you call it Cousin Camp, Moms Camp, Do-It-Yourself Camp or The Smith Family's Awesome Week of Awesomeness, you're going to have lots of fun. Just ask my kids — Cousin Camp is the one summer camp they look forward to every year!
Read more of Ana's posts on her personal blog, Finding Bonggamom, her review blog, Bonggamom Finds, and on Silicon Valley Mamas.
Products featured in this post:
Coloring and ARTivity Books
Price: $3.99 – $7.99
Age Group: 3 – 93
No Comments
Posted in:
Do-It-Yourself
,
Summer Activities