December 17th, 2010
Posted by:
Kim
Hello everyone! I am Kim from seven thirty three – - – a creative blog and I am going to share with you a little activity my children and I did using a kit from Creativity for Kids!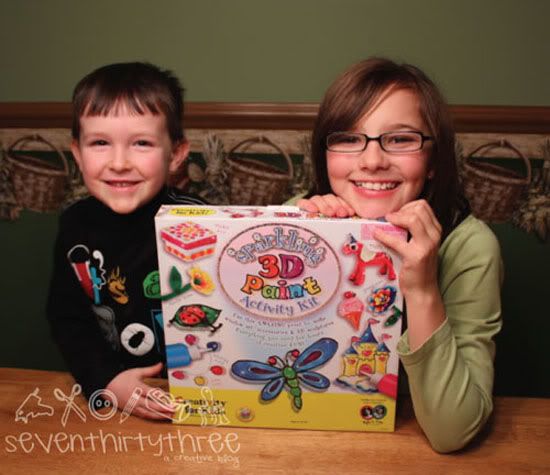 My kids had a BLAST using the Sparkling 3D Paint Activity Kit from Creativity for Kids. After dinner one night last week I pulled out the box and we set to work. The box comes filled with lots of goodies – 10 sparkle paints, googly eyes, pipe cleaners, jewels, glue, sun catchers, ribbon, trinket box and templates with plastic sleeves.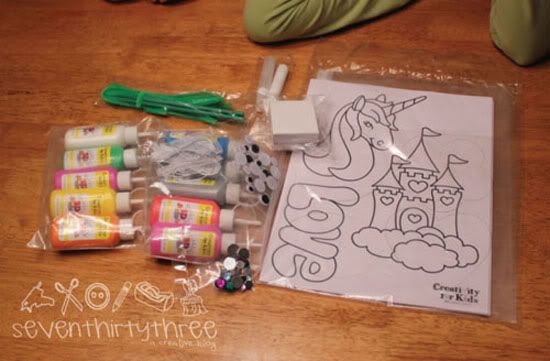 After spreading out the contents, the kids each chose an item and we set to work. The tips of the bottles need to be cut off, so I did that portion – make sure not to cut to low or the little attached caps will not go back on (although I have a solution to this problem if it happens to you, so keep reading!).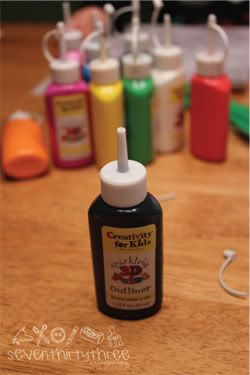 My three year old son decided he wanted to create an ice cream window cling, so we picked out the template, inserted it into the plastic sleeve and outlined the ice cream cone with the black outline paint. We set that aside for about 20 minutes to dry (the instructions said 30 mins, but we got antsy), as we got to work on another masterpiece. This time we free handed his name with some green sparkle paint and he added all sorts of colorful dots. I did have him remove his shirt because his apron was in the wash and I didn't want to ruin his clothes – yes the paints can stain fabrics, furniture and other porous surfaces.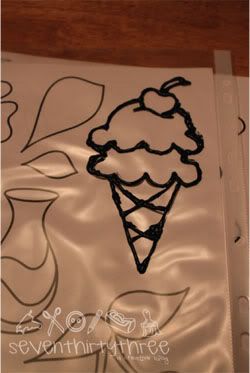 After finishing his name, we grabbed his ice cream cone and filled in the blank spots.

My daughter had set to work creating her very own sun catcher and trinket box. At 10 years old, she was extremely capable of doing this project on her own, with minimal help and had a blast doing it!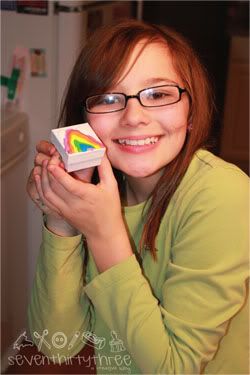 After we finished creating some beautiful works of art, we set everything aside to dry overnight.
I sent the kids to wash up – the paint came right off their hands AND my table with just soap and water. I set to work cleaning up the kit. As I mentioned above, when I cut the tips off the paint, I must have cut to low because the little caps would not go back on. Here is what I did so that the paint wouldn't dry out: put all of the paints into a storage sized ziplock bag. Grab the cardboard insert from the kit box and place the paints inside it and place it back in the box. This holds the paints upright and being in an airtight bag they won't dry out.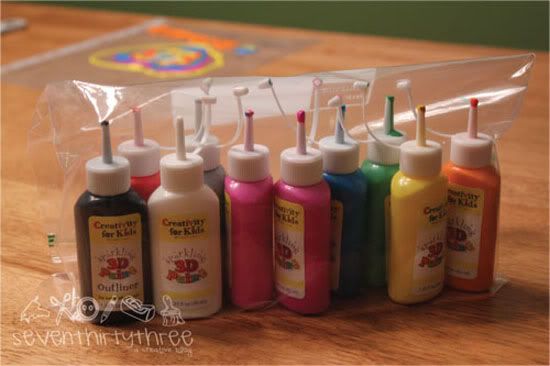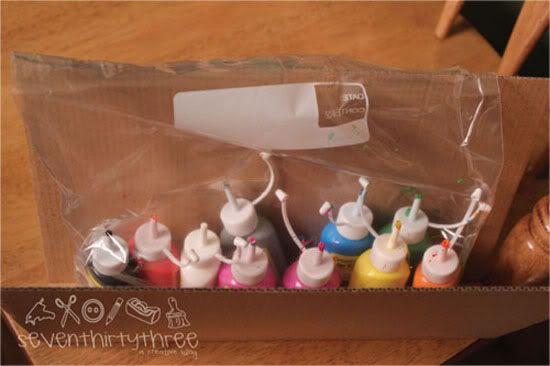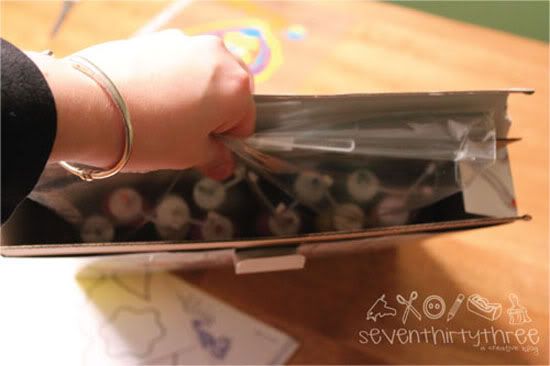 After the paint had time to dry, they peeled right off the plastic and stuck right to a window, mirror, etc. In the image below you can see my son's window clings: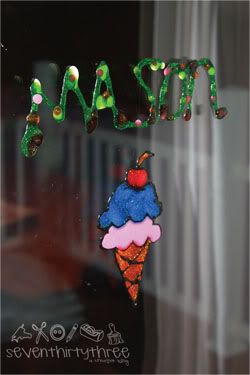 The sun catches the sparkles and they look really pretty. After I took this picture he grabbed them and moved them right up into his bedroom window!
The end results were great and the kids have been begging to make some more, so I know we'll be pulling this kit out again VERY soon! And what's best – there are so many ways to make new things with these paints! You can make jewelry, and 3D items – such as a horse or flower. The kit comes with some great instructions, or you can set your kids loose and see where their creativity brings them!
I would love for you to stop by and say hi, and maybe take a peek around my blog, seven thirty three – - – a creative blog!
Products featured in this post:
Sparkling 3D Paint Activity Kit
Price: $21.99
Age Group: 6 – 96
No Comments
Posted in:
Painting
,
Product Tutorials
,
Tips and Tricks